More than 270 first- and second-year students live in suite-style rooms on seven floors in Marguerite Hall.
Most floors in Marguerite Hall have a community kitchenette and lounge. You'll find students studying in "The Mug" — Marguerite Hall's meeting room, and Career Services offers walk-in hours for students with questions regarding résumés, job search, cover letters, etc.
About Marguerite Hall
Address:
3811 West Pine Mall, St. Louis MO 63108
Front Desk:
314-977-3070
Amenities:
Central air conditioning, Wi-Fi, cable, on-site laundry, community kitchenettes, 24-hour security desk, community lounges, study and meeting room. Bike storage outside of building.
Additional special features:
Chapel
Room types:
Double rooms; suite-style
Bathrooms:
Semi-private. Two rooms share one bathroom.
Dining:
Students can stroll down to Grand Dining Hall for meals or choose to dine at the Billiken's Lair located in Fusz Hall.
Parking:
Regis parking lot, Laclede Garage
Population:
Single-gender rooms on mixed-gender floors
Residence Hall Coordinator:
Yonshalae Powell, yonshalae.powell@slu.edu, 314-977-2976
Niki Patel, nikiben.patel@slu.edu, 314-977-2977
Visiting Restrictions:
Students living in any University-managed residence halls or apartments may check in guests at the front desk between the hours of 7 a.m. and 2 a.m., Sunday through Thursday or 7 a.m. to 4 a.m., Friday and Saturday. Guests must be checked in and escorted by their host at all times.
Special Hours:
Marguerite Hall is open over Thanksgiving, winter and spring breaks.
Trivia:
Marguerite Hall was Saint Louis University's first residence hall for women and the University's first co-ed residence hall.
Floor Plans
Double Deluxe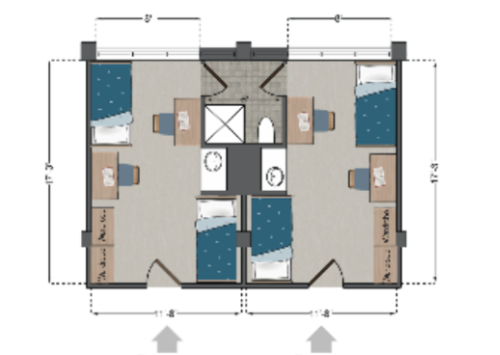 Room Includes:
Bed: 38"W x 86"L
Dresser: 36"W x 24"L x 30"H
Wardrobe: 36"W x 24"L x 72"H
Desk: 42"W x 24"L x 30"H
Chair: 18"W x 18"L x 32"H
Browse 360° views of how Marguerite residents have set up their rooms:
What's in the Room?
Twin beds with 9" memory foam mattress
Desks
Dressers
Wardrobes
Learning Community: Micah
The Micah Learning Community focuses on service, academics and faith. Students fulfill two core course requirements in special fall Micah sections, interact and serve with older Micah students who are mentors or community night leaders, and serve at established Micah service sites in the city.